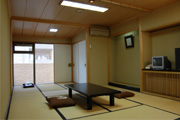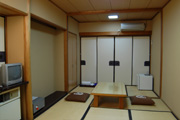 Single rooms to rooms for the whole family
Take your shoes off and relax in a traditional Japanese tatami room.


See the following link for a detailed description of a Ryokan. (traditional Japanese Inn)
http://www.travel-japan.jp/etiq_ryokan.html
Rates / Availability / Reservations
Check in: 16:00 Check out: 10:00
*Bags may be held by the hotel prior to check-in.
*Please contact the hotel if you are likely to check in any later than 22:00.
*Failure to contact the hotel will result in cancellation of your reservation.
Credit cards not accepted. The hotel kindly requests all charges be paid for in cash.
*No currency exchange
*No internet connection


Guest room facilities & amenities
Bathroom and toilet / Air conditioning / Television / Telephone / kettle / Fridge
Hair dryer / Shampoo / Conditioner / Bath towels and yukata (Japanese gown)

Experience a taste of Japanese tradition and relax in a soothing Japanese bath.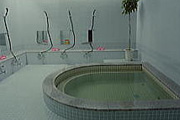 The bath is available to all hotel guests free of charge.
(Open up to 24:00)


How to take a Japanese bath
You are only to go inside the bath tub after you washed your body.
First, you are to rinse your body with hot water.
Washing beforehand helps to keep the water in bath tub clean.
The rinsing and washing of your body with hot water also acclimatizes you to the temperature of the bath tub, which can be very hot. It is not advisable to jump into the water like diving in to a swimming pool. Please use discretion.
Please do not put the hand towel into the bath tub water. Most people place the towel on their head. And remember do not use any soap or shampoo or other skin cleansers in bath tub either.


See the following link for a how to take a Japanese bath.
http://www.travel-japan.jp/etiq_bath.html



Cafe / Banquet room, Conference room
Kiosk / Vending machines
Cleaning service / Fax services / Massage service
Morning calls and home delivery service.