Ryokan kyoto Sugicho
Ryokan kyoto Sugicho is situated just 5 minutes walk from the Kyoto Shiyakusho-mae subway Station. Ryokan kyoto Sugicho is conveniently located close to numerous bus stations making it the perfect spot to base sightseeing around Kyoto. Just next door you will find Kyoto Gyoen and the Nishiki Markets.


From 794 to 1868, Kyoto served as the official capital of Japan. Kyoto is still one of Japan's leading tourist destinations and is home to numerous temples, shrines and other historic buildings. Kyoto is also the birthplace of Japanese culture, and it is no exaggeration to say that the culture of Japan has been forged from the culture of Kyoto. Kyoto had served as the capital since Heian-Kyo and was also known as Kyo no Miyako. Either of the two Chinese characters that make up Kyoto means "Capital", and Tokyo garnered its name from its meaning, Eastern Capital.
---
Features of Ryokan kyoto Sugicho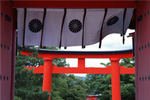 Perfect Location of Ryokan kyoto Sugicho
5 minutes walk to Kyoto Shiyakusho-mae subway Station. Ideal base for seeing the sights of Kyoto including the Nishiki markets and the busy entertainment district, Kawara-machi.
---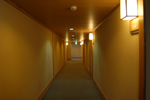 Quiet surroundings of Ryokan kyoto Sugicho
Ryokan kyoto Sugicho is located off the main street giving it a quiet and relaxed atmosphere.
---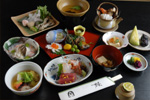 Enjoy the gastronomic delights of Kyoto
Take advantage of the accommodation and evening course meal package. Enjoy a traditional Kyoto-style course meal prepared with the freshest seasonal ingredients.
---
Cancellation Policy of Ryokan kyoto Sugicho
Up to 3 days in advance: 30% of total price.
Same day cancellation: 50% of total price.
No show: 100% of total price.
---
---